INFLUENCING FOR OPPORTUNITY
Digital Learning
The ability to influence others is critical in today's competitive business environment. Build knowledge about the theory of influence, influence principles and strategies, and then apply your skills to create more opportunities to influence others.

Achieve greater results, work more productively and effectively in a team environment, and develop stronger working relationships with co-workers, suppliers and customers.

Based on the book by Catherine Mattiske.
Comprehensive Digital Learning
Interactive modules take 3 hours in total
Guided Activities Throughout
Instantly transform your skills!
Bonus Activity Book
Choose from iPDF or Printable
Collect FREE JOB AIDS
6 Rules of Influence

10 Ethical Influence Strategies

Influencing Power Words

Benefits and
immediate results
Becoming
highly skilled in influence enables you to build the relationships you need to get results inside or outside the organization. Being a more influential person is a skill that can be learned and practiced.
Influencing for Opportunity combines self-study with realistic workplace activities to provide you with the key skills and techniques to influence those around you:
Define the fundamental principles of influencing others

Recognize the difference between control and influence

Establish clear and powerful influence goals


Identify patterns of influence and develop behaviors for greater success

Design an approach for formal and informal influence

situations

Identify ways to increase influence to overcome resistance

Recognize how to ask for and receive support

Identify ways to create a more influential life


Create your skill development action plan
Influencing for Opportunity helps you succeed in the modern corporate environment by increasing your ability to influence others.
Program Roadmap

What's Ahead in this Program Journey?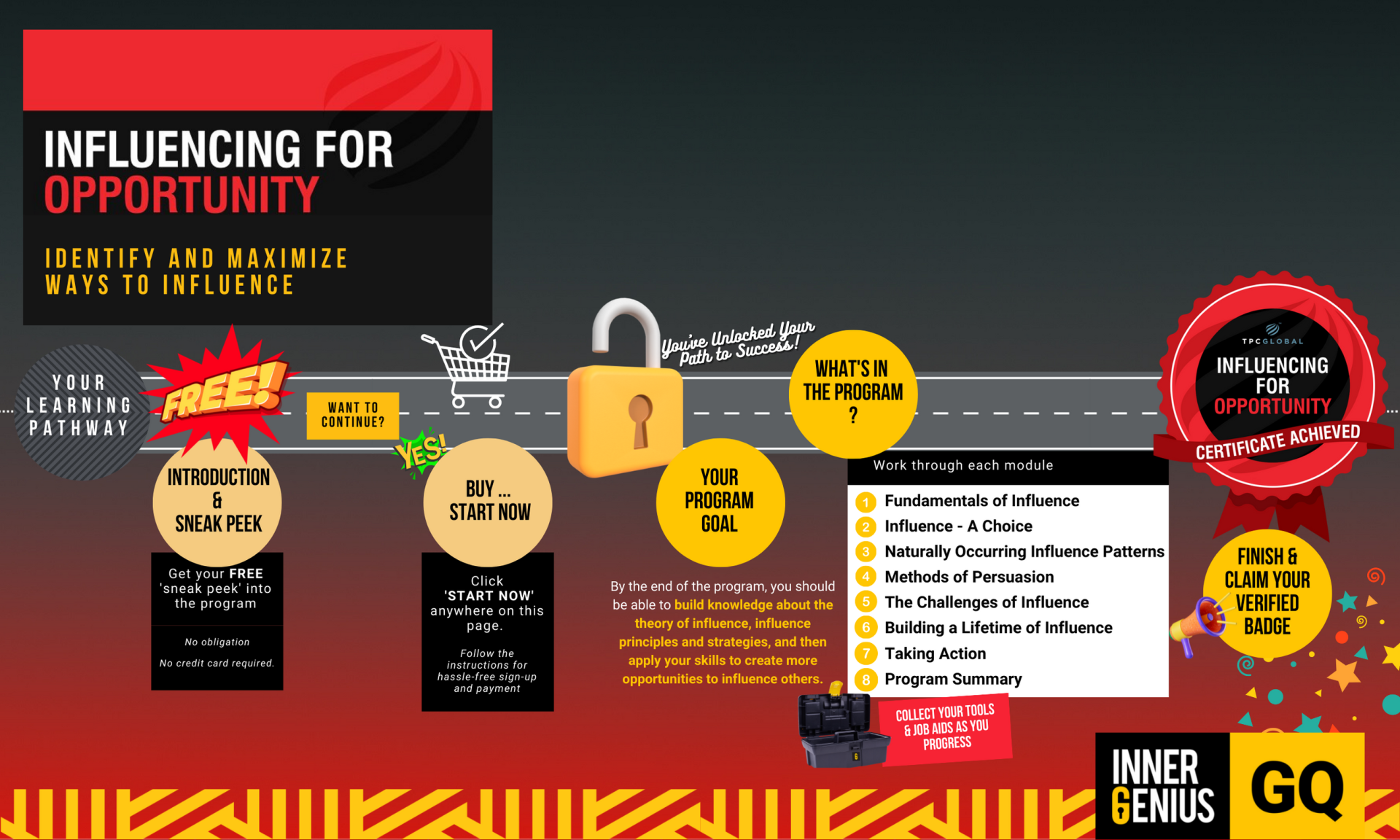 Of the modes of persuasion furnished by the spoken word there are three kinds:
The first kind depends on the personal character of the speaker; the second on putting the audience into a certain frame of mind; the third on the proof, provided by the words of the speech itself.
ARISTOTLE


H

ow

can you

develop persuasive influence

?...
Influencing for Opportunity helps to
master
the art and skill of influencing with impact!
Program contents
You're minutes away from enhancing your INFLUENCING power
Visit the FREE Introduction & 'Sneak Peek' with our compliments. Each section contains bite-sized modules. After purchase, work through the order on the menu. Blitz a whole section in one go, or take one bite-sized module at a time - the choice is yours!
FOR UNLIMITED LEARNING INSPIRATION
find more digital modules
in Our Latest CATALOG
And Browse
the courses and products on GQ Academy
Sign up for our weekly newsletter. Get member discounts. Be inspired. Live in your genius zone.