EFFECTIVE TIME MANAGEMENT
Digital Learning
Build knowledge about effective time management principles and then apply the techniques to balance priorities, achieve more and maximize time.

Improve your ability to manage your activities more effectively and make the best use of available time, which will bring a positive return on your investment in time and increase both personal and business success.

Based on the book by Catherine Mattiske.
Comprehensive Digital Learning
Interactive modules take
2.5 hours in total
Guided Activities Throughout
Instantly transform your skills!
Bonus Activity Book
Choose from iPDF or Printable
Collect FREE TOOLS

The Weekly Planner

Benefits and
immediate results
Time is our most unique and valuable resource. We all have 24 hours in a day, 168 hours in a week, and we spend it at the same rate. We cannot slow, stop or negotiate with time. We can manage ourselves
to balance priorities and be more efficient with our time.
Effective Time Management combines self-study with realistic workplace activities to provide the key skills and techniques that allow you to manage your time more effectively, as you clear the clutter and focus on what's important.
Identify your own habits and time management behavior

Set short, medium and long term goals

Weed out tasks that are unimportant or a waste of time


Prioritize your work and create daily and weekly planners

Make instant changes to your workspace

Handle interruptions and avoid sidetracks

Create your Skill Development Action Plan
Time management is about more than time - it is really about managing our lives. This program assiss you to balance priorities, achieve more, be more efficient and learn to maximize minutes!

Program Roadmap

What's Ahead in this Program Journey?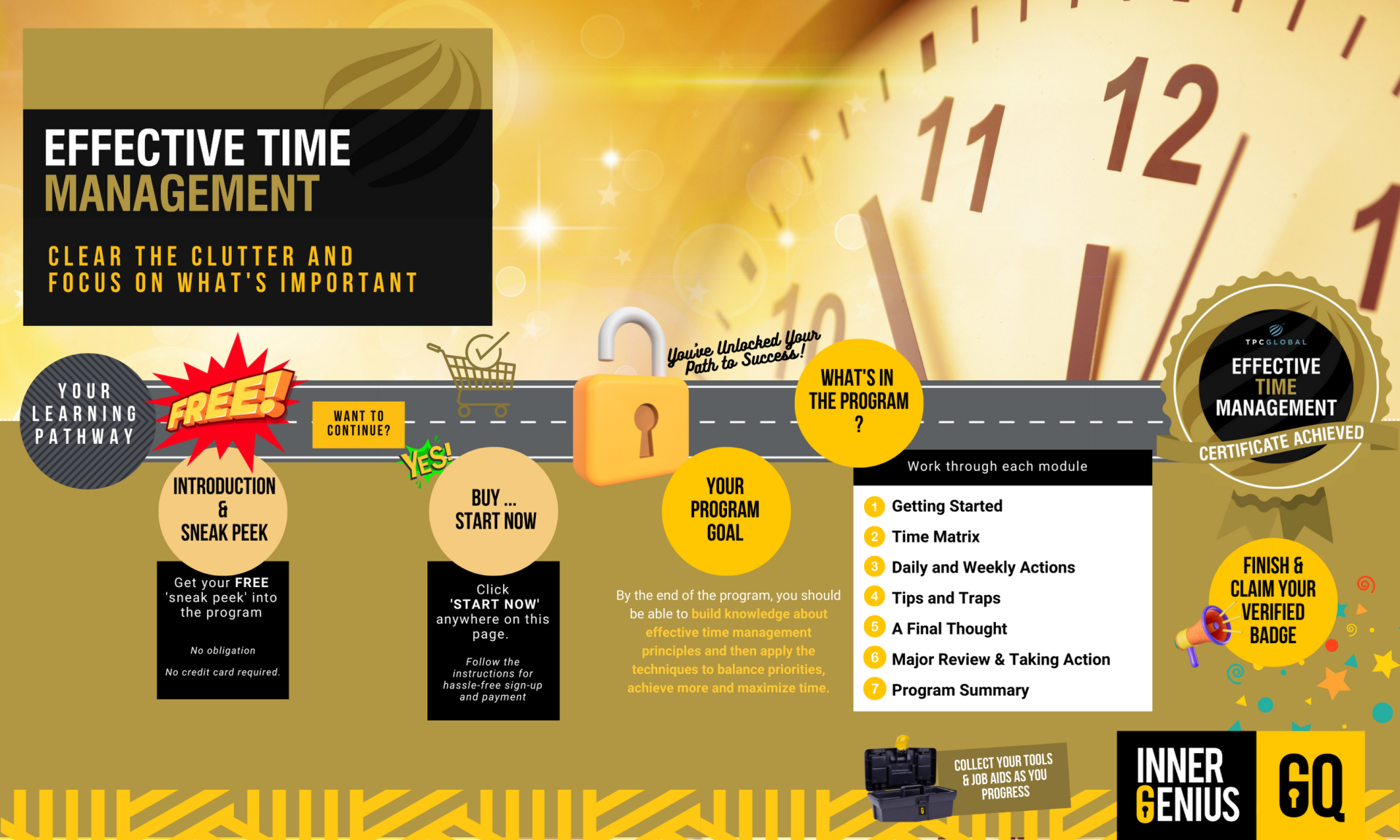 Don't say you don't have enough time. You
have exactly the same number of hours per day that were given to Helen Keller, Pasteur, Michelangelo, Mother Teresa, Leonardo da Vinci, Thomas Jefferson, and Albert Einstein.

H

ow

can you

manage your life and create more time to

do the things that really matter

?...
Empty space, drag to resize
Effective Time Management helps to
identify what you can chang
e
about your habits, routines and attitudes to
boost productivity!
Program contents
You're minutes away from a more positive return on your investment in time!
Visit the FREE Introduction & 'Sneak Peek' with our compliments. Each section contains bite-sized modules. After purchase, work through the order on the menu. Blitz a whole section in one go, or take one bite-sized module at a time - the choice is yours!
FOR UNLIMITED LEARNING INSPIRATION
find more digital modules
in Our Latest CATALOG
And Browse
the courses and products on GQ Academy
Sign up for our weekly newsletter. Get member discounts. Be inspired. Live in your genius zone.