Customer service excellence
Digital Learning
Build knowledge about providing excellent customer service and then apply your skills to continuously meet and exceed the needs of your customer.

Fuel your confidence for delivering excellent and creative customer service, which will keep your existing customers, attract new customers and help you and your business create a real competitive advantage.

Based on the book by Catherine Mattiske.
Comprehensive Digital Learning
Interactive modules take
3 hours in total
Guided Activities Throughout
Instantly transform your skills!
Bonus Activity Book
Choose from iPDF or Printable
Collect FREE JOB AIDS
Customer Satisfaction Model
5-Step Customer Service Model
7-Step Handling Difficult Situations Model
Benefits and
immediate results
Customer Service Excellence combines self-study with realistic workplace activities to build advanced knowledge of customer service principles. In a selling situation this Learning Short-take® helps to uncover customer needs and sell the value of the product on benefits rather than just price. In a customer service environment this Learning Short-take® helps to listen to the voice of the customer, responding to their stated needs and uncovering their unstated needs.

Define the skills and attributes of an effective customer service professional

Explain the Customer Satisfaction Model

Identify Customer Types and Customer Needs

Implement strategies to retain dissatisfied customers

Explain the 5-Step Customer Service Model

Use superior communication skills to enhance customer interactions

Create your Skill Development Action Plan
Customer Service Excellence helps to identify common threads amongst customer interactions which can be applied to all situations, and also unique situations that often need to be addressed in the moment, without preparation. Learn how to deliver excellent and creative customer service to delight your customers every time!
Program Roadmap

What's Ahead in this Program Journey?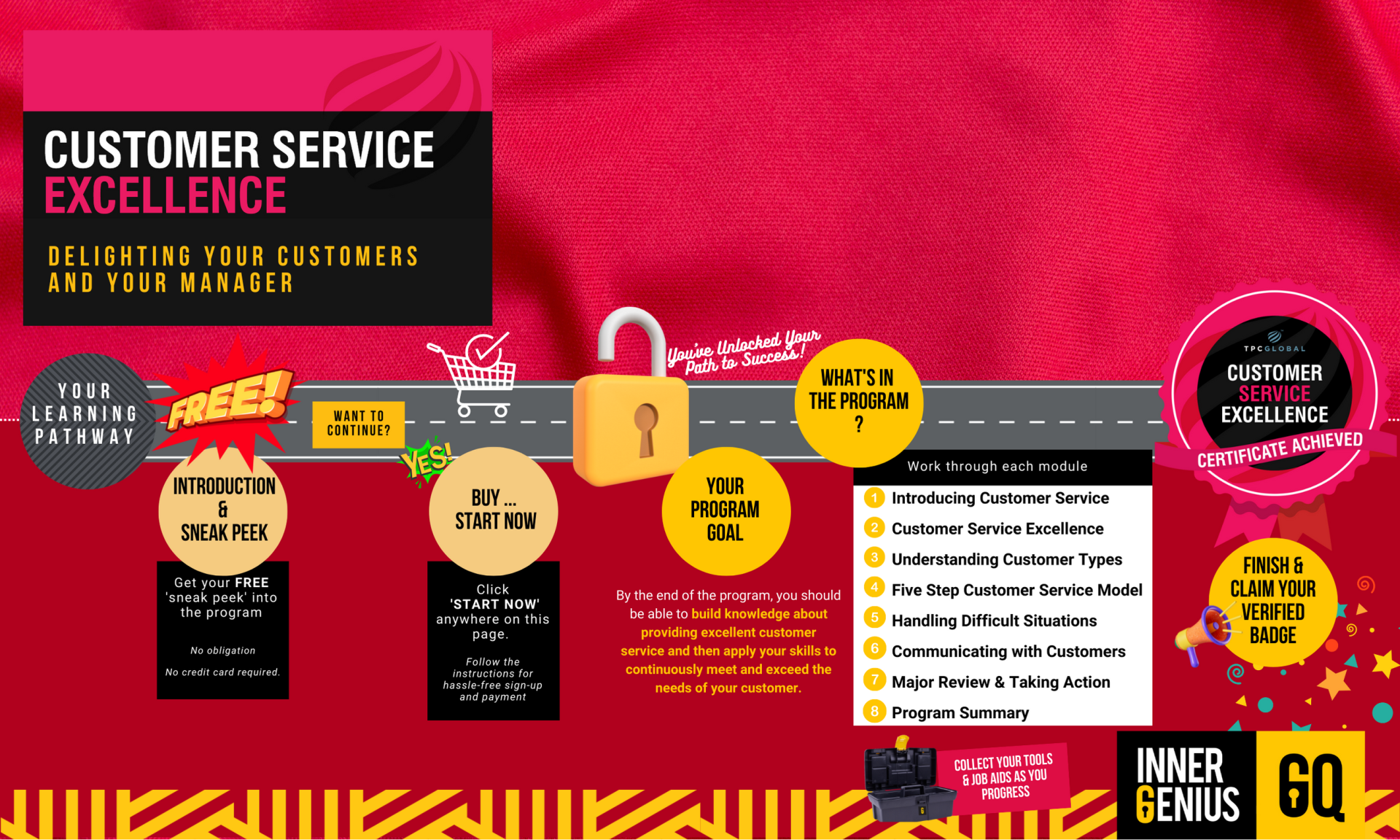 Find out what your customers want and give it to them. If you do it again and again you will never have to worry about sales or profit.
H

ow

can you

exceed expectations and delight your customers

?...
Empty space, drag to resize
Customer Service Excellence helps to
tune-in to the voice of your customers to uncover and respond to their needs!
Program contents
You're minutes away from developing your CUSTOMER SERVICE Excellence!
Visit the FREE Introduction & 'Sneak Peek' with our compliments. Each section contains bite-sized modules. After purchase, work through the order on the menu. Blitz a whole section in one go, or take one bite-sized module at a time - the choice is yours!
FOR UNLIMITED LEARNING INSPIRATION
find more digital modules
in Our Latest CATALOG
And Browse
the courses and products on GQ Academy
Sign up for our weekly newsletter. Get member discounts. Be inspired. Live in your genius zone.