Genius Quotient

Quickstart

Learn the key to success. Discover your Inner Genius. Become an effective communicator. Influence others.

Unlock Your Inner Genius in this quick start mini-program, access your Genius Quotient and begin operating in your GQ Genius Zone.

Benefits and
immediate results
Suppose you want to feel heard, understood, and naturally begin to influence other people around you. This mini-program is the foundation to help unlock your Genius Quotient (GQ). Once you do that, you can unlock skills you never knew you had.
Instantly enhance your learning speed and how quickly you process information


Lay the groundwork for an immediate boost in your communication effectiveness


Put new communication skills into action when you present, write and speak

Notice the impact on other people's understanding

Forge better relationships


Feel heard and understood at work and with family and friends
Now is the perfect time to start working on yourself and communicating with other people.
bEFORE TAKING THIS PROGRAM
YOU NEED TO KNOW YOUR GQ
If you have not done your Inner Genius Profile, do this before starting GQ Quickstart.

Program Roadmap

What's Ahead in this Program Journey?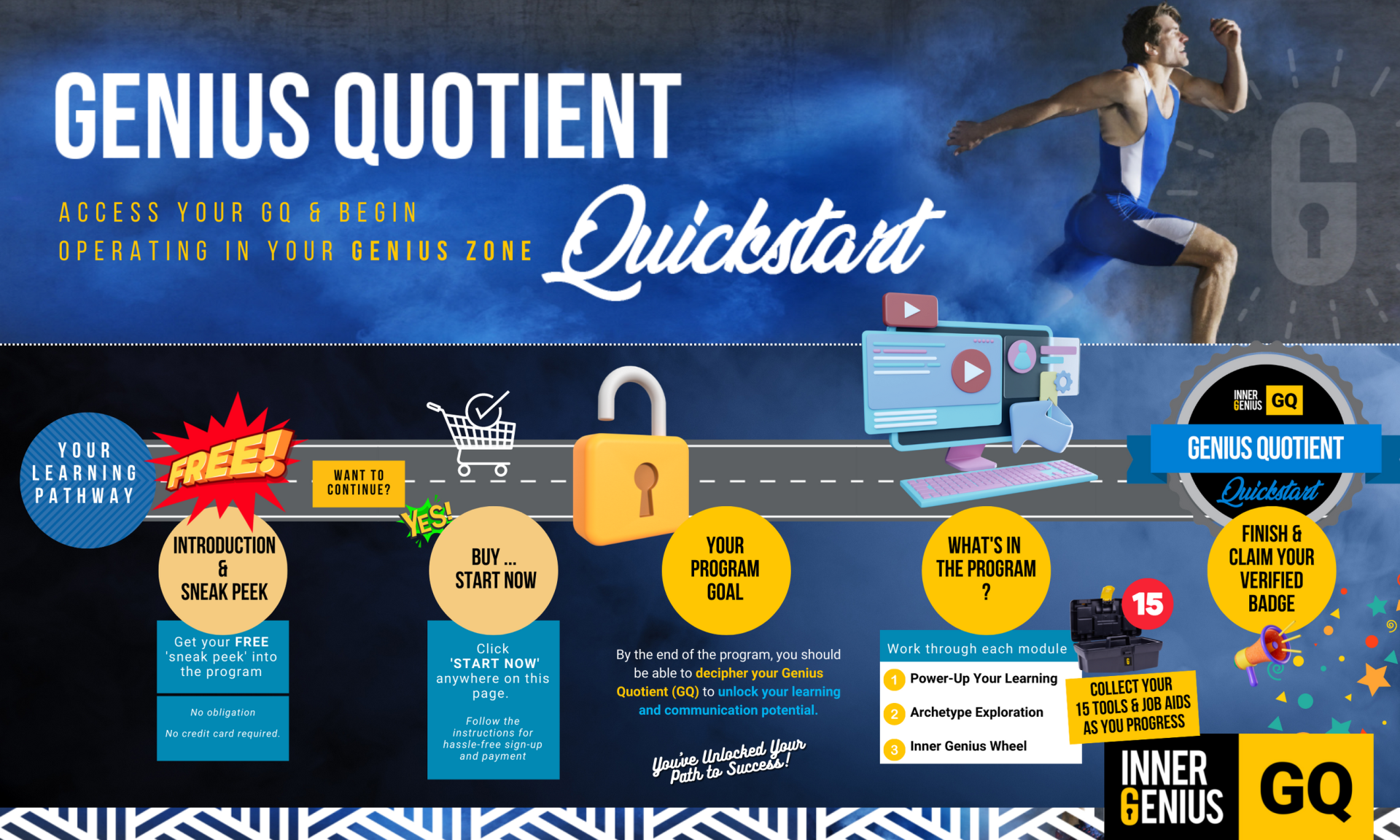 pROGRAM contents
You're minutes away from accessing your GQ
Visit the FREE Introduction & 'Sneak Peek' with our compliments. Each section contains several bite-sized modules. After purchase, work your way through the order on the menu. Blitz a whole section in one sitting, or take one bite-sized module at a time - the choice is yours!
Take
GQ Quickstart
to Unlock
the power of your gq!
If you've done your profile and want to continue your learning now, I designed GQ QuickStart to achieve results quickly. Switch to the fast-lane in this individual access program and start to unlock your Inner Genius today.
Catherine Mattiske
Inventor - Genius Quotient | Author Unlock Inner Genius

Sign up for our weekly newsletter. Get member discounts. Be inspired. Live in your genius zone.