Discover Your Genius Quotient
Learning Professional
Unlock your programs' Genius to inspire unforgettable impact.
In this 6-week interactive program, you should be able to use your learners'/coachees' Genius Quotient (GQ) to unlock a new method of communication to engage, connect and influence.


This program helps you to understand others' learning preferences and use the best strategies and techniques to help them learn faster, retain and apply new information, to achieve their limitless potential.
Corporate

training professionals, L&D, Trainers, Facilitators, Instructional Designers, Performance Consultants, Coaches and Mentors

Educators

in School, College or University: Teacher, Faculty Member, Lecturer, Principal, Dean, Vocational Education and Training (VET) Instructor, Tutor, Instructor and Coach

Sports Coaching

in Sports Association, Sports Academy, Professional or Volunteer Coaches from all sporting codes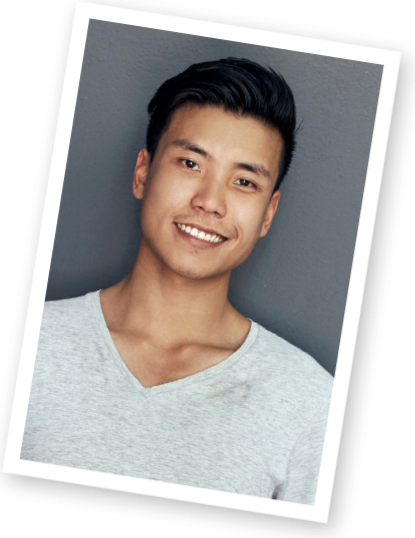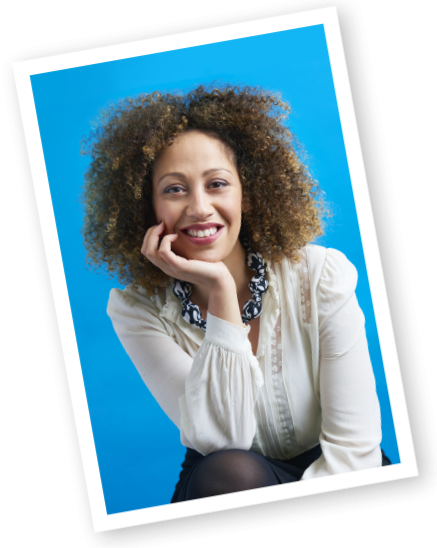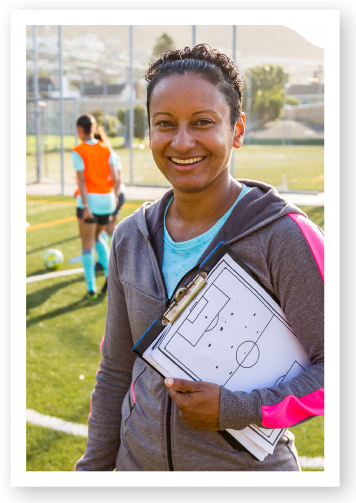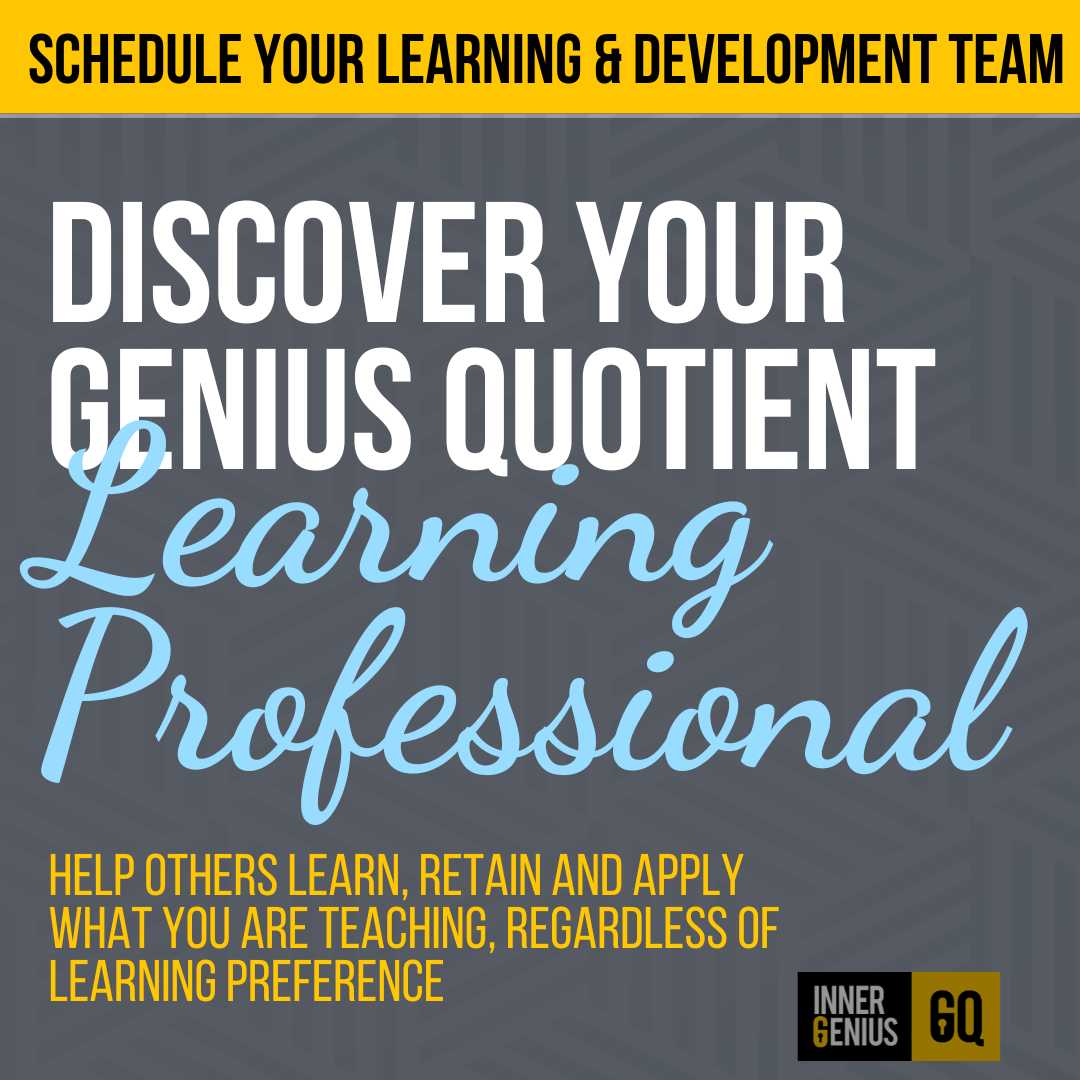 This program is an all-virtual format - join from anywhere!
Welcome Pack

Program essentials, GQ Academy access & voucher for IG Profile

Inner Genius Profile

+ Access to GQ Vault: Profile Report, full eBook, Playlist, Tools, Vouchers

Live Launch Session

90 minutes

6 Self-Study Digital Modules

2-3 hours per week

6 Live masterclasses

6 x 90 minutes

Personalized Coaching Sessions
Guide Price
$8,995
USD PER PERSON
Group Discounts apply
contact us for a custom proposal
programs scheduled for groups:
corporate, schools, colleges, sporting associations, etc.

Benefits and
immediate results
Press + to expand and read more details
Gain the know-how and tools to implement superior learning that connects to every participant
Through teaching underpinned by GQ, you can make a difference by clicking with everyone simultaneously despite any of the learning differences between your students. Shift the focus of learning to the learner. Increase interaction, engagement, connection and collaboration in your next program.
tap into the Inner Genius (GQ) of others and unlock their limitless potential
Use the Inner Genius Profile to unlock the Genius Quotient (GQ) of your learners or coachees. Get every individual operating in their GQ Genius Zone to learn faster, and apply more. Confidently redirect those struggling and traditionally needing your attention more than others to get the desired results faster.
Transform the way you communicate as you teach & inspire others
Harness the power of communicating with learners in groups and 1:1 during coaching conversations that will noticeably inspire participants to succeed. Quickly supercharge learning communications to boost fast learning, increase learners' action, and watch as these individuals apply their knowledge to achieve goals.
Testimonials
What the experts say
"And I love the idea that [Inner Genius] is almost a missing link, because I think of all the amazing things that we are involved in as learning professionals, [doing all we] can do to create learning environments, to create engaging learning sessions. But, it's rarely going to land unless that learner has the knowledge of how they learn."
Marc Williams
Learning that Sticks
"There are many books out there on how to coach sports teams to get the winning edge. However, nothing comes close to Unlock Inner Genius. It's simple, uncomplicated, and science-based. I've implemented Catherine Mattiske's Inner Genius communication techniques both with individuals and the teams I coach. As a result, I instantly see an improvement in my athletes in how they listen, understand, react and perform."
Nicola Symonds
Personal Trainer & Coach
Dublin, Ireland
"Well, you've certainly helped me…

I've [gotten] so much value out of it, and I know that people are listening to this, if they've got any interest in moving on in coaching and leadership, you cannot fail to have opened up a little gold mine here.

So thank you so much."
Rob Ryles
Football Coach and Mentor
How does it work?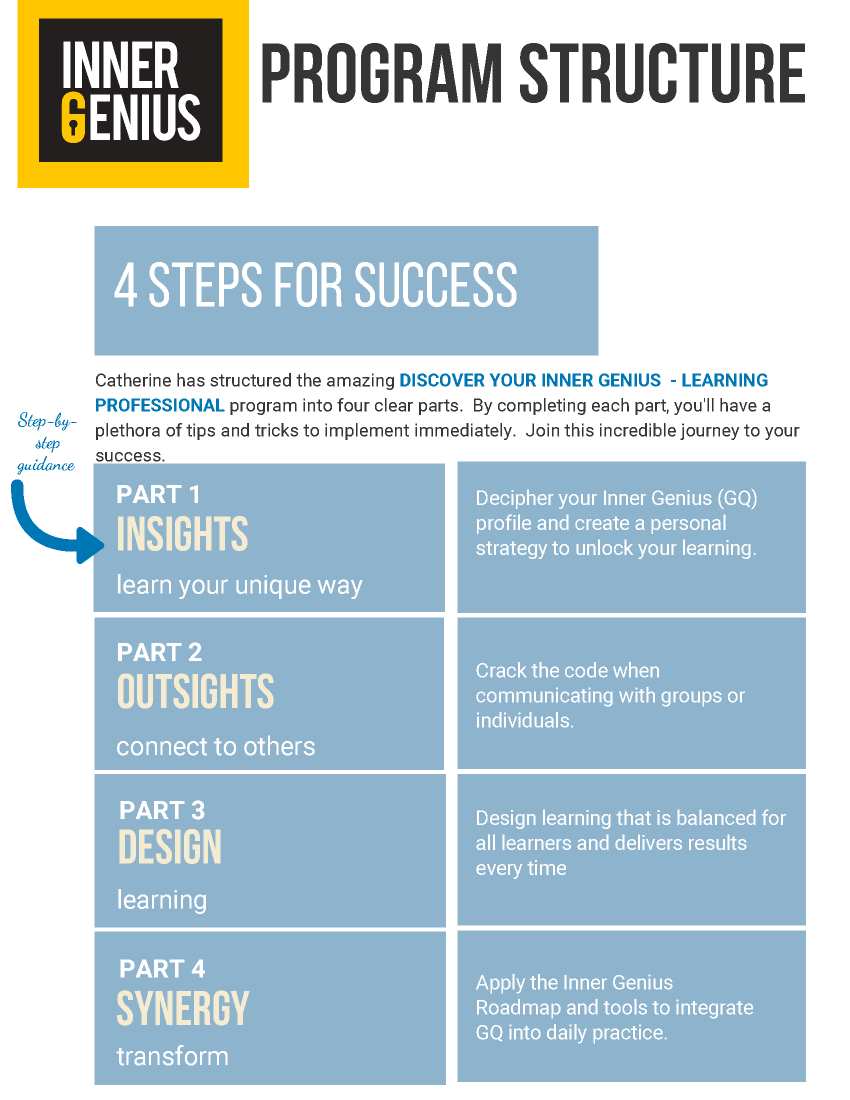 Program CONTENTS OVERVIEW
Explore the next Steps on your learning pathway
Introducing...
On completion of this program participants may explore the formal Certification pathway of ID9 Intelligent Design. Designed by Catherine Mattiske, these programs have Certified over 5,500 learning professionals globally, who have gone onto train in excess of 5 million people.
Participants attended courses written
using ID9
Learning Professionals certified globally
Custom ID9 documents created for clients
Sign up for our weekly newsletter. Get member discounts. Be inspired. Live in your genius zone.