Discover Your Genius Quotient
Executive
Unlock your Genius Quotient to make an impact. Take your Executive communication to the next level as you engage, connect and influence.
Use the Inner Genius tools and access your Genius Quotient to develop authentic connections while making an impact through good communication. Improve your influence on others while exceeding expectations.
This 6-month program gives you access to your Genius Quotient, combined with powerful s
trategies and tools to connect on a deeper level with your organization
, colleagues, clients and customers, through a new way of communicating.
Designed for Executives and Senior Leaders of organizations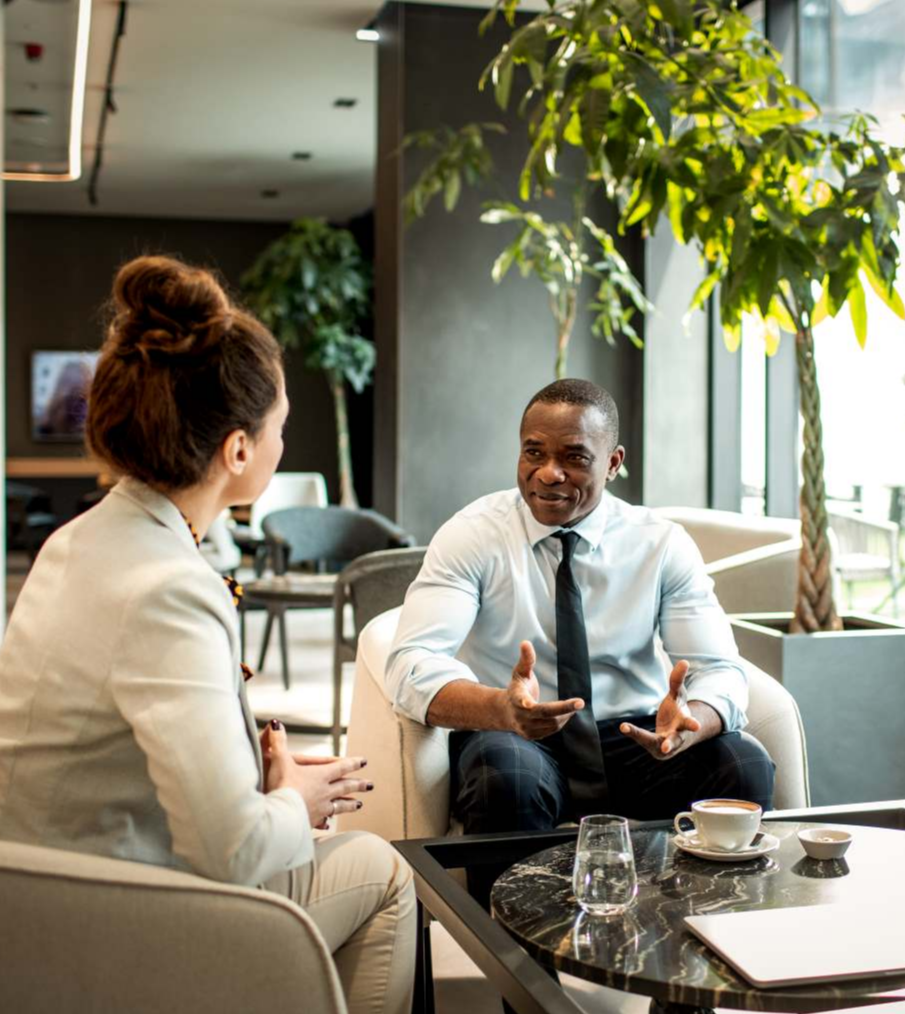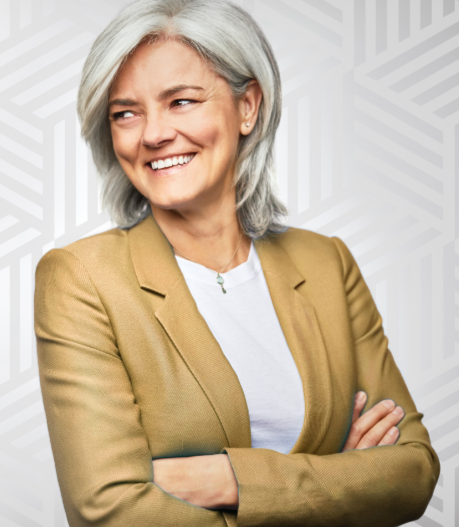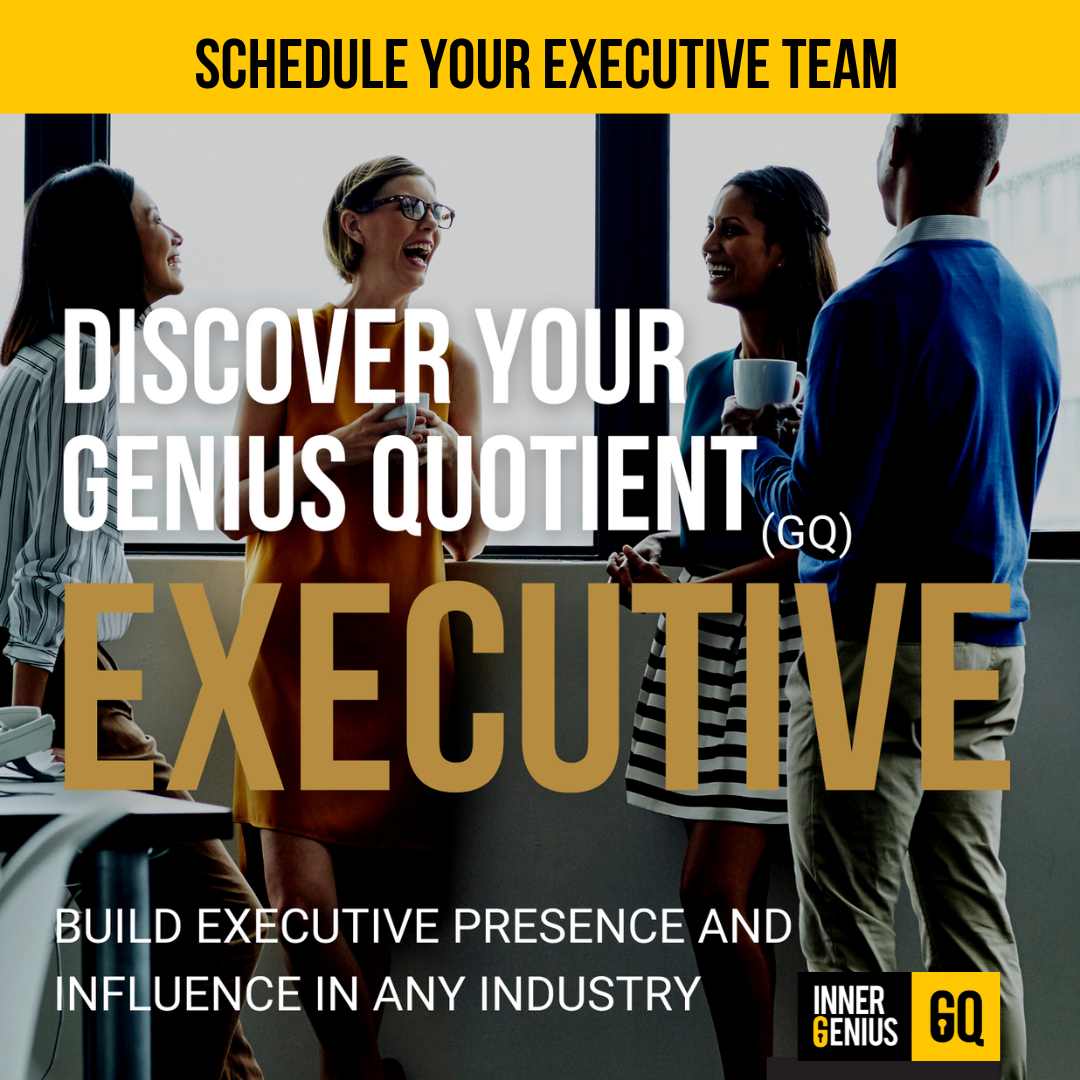 This 6-month program is an all-virtual format - join from anywhere!
Welcome Pack

Program essentials, GQ Academy access & voucher for IG Profile

Inner Genius Profile

+ Access to GQ Vault: Profile Report, full eBook, Playlist, Tools, Vouchers

Live Launch Session

90 minutes

6 Self-Study Digital Modules

2-3 hours per month

6 Live masterclasses

6 x 4 hours (monthly)

Personalized Coaching Sessions
BOOK NOW FOR 2024
Request a Private Program for Your Executive Team

For groups of 5 or more in the one booking. Single person bookings are not accepted on this program. For larger groups – group discounts apply.
Benefits and

Immediate results



Use your Genius Quotient (GQ) to unlock a new method of communication to engage, connect and influence.
Identify techniques to strengthen your leadership presence

Communicate your vision for your future self to strategize your success

Connect and diversify your network to achieve meaningful impact

Use the Inner Genius tools to craft persuasive and targeted communications that are integral to business success
Develop
Authentic connections
Inspire a growth mindset built on meaningful connection, clear communication and positive influence that makes a difference.
Stronger leadership presence

Less miscommunication and time wasting back-and-forth

Design communication that makes everyone feel like they are included

Increase persuasive and ethical influence
What Executives are saying
This is very impressive… from a senior leadership perspective, I'm thinking, wow, Catherine's really onto something. Inner Genius could work for my organization.
Hilmon Sorey
The Winning Zone
Major disruption requires ingenious responses. People often move to comfort zones in times of crisis and uncertainty. Unlock Inner Genius helps you unlearn, re-learn and discover what you are capable of, and what your team members can accomplish with your leadership.
Sally Capp
The Right Honorable
The Lord Mayor or Melbourne, Australia
How does it work?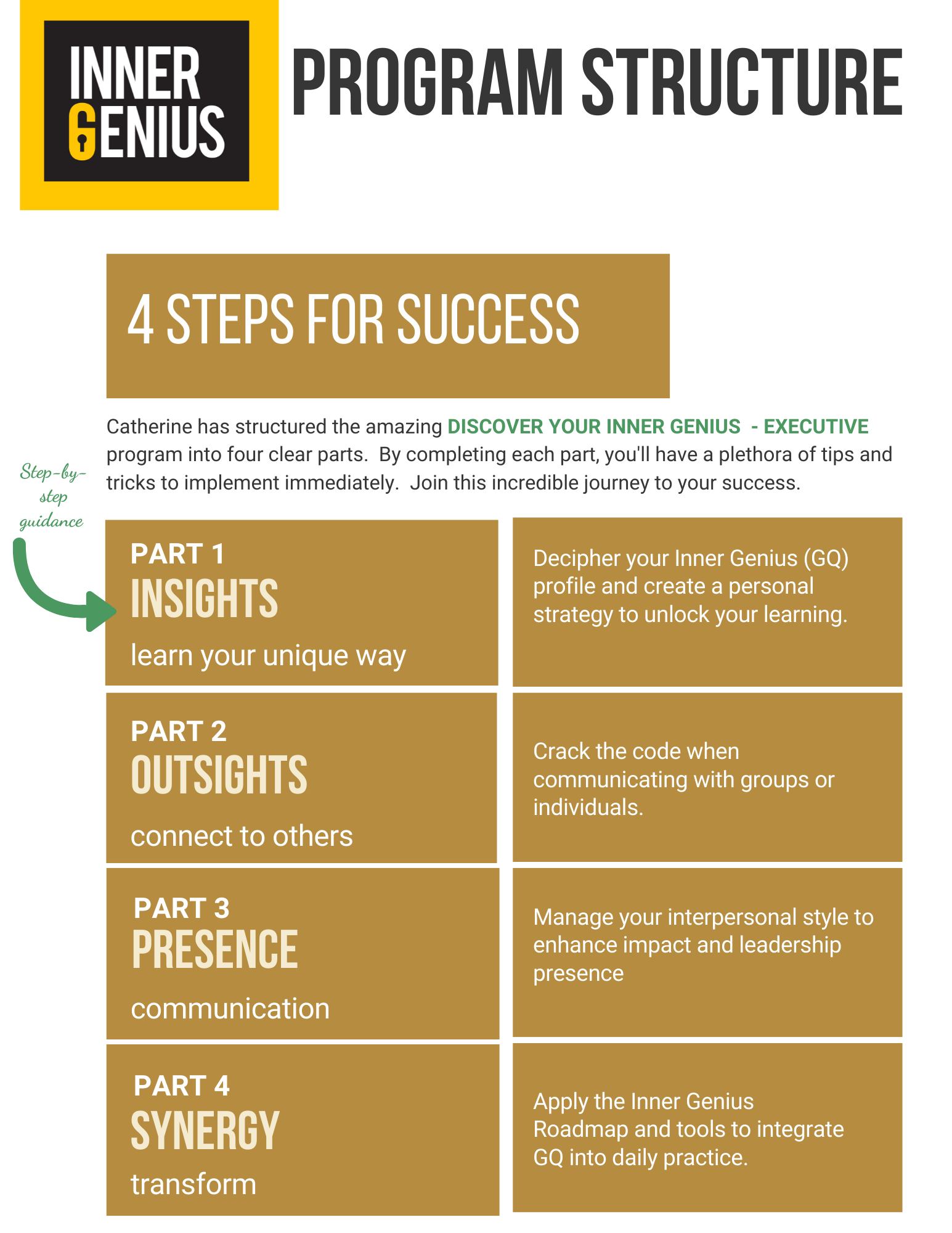 Program CONTENTS OVERVIEW
Empty space, drag to resize
2023 Program Dates -
THIS IS HIDDEN
This is a 6-month interactive program, with one live Masterclass per month, and digital modules (self-study) and Executive Coaching in-between.
Press a program date to see more info and register

Sign up for our weekly newsletter. Get member discounts. Be inspired. Live in your genius zone.